Episode 3 – Guest: Annie VanderMeer Mitsoda
Theme song: Straw Fields, by RoleMusic
In this episode Mike talks with designer/writer Annie VanderMeer Mitsoda about a range of topics.
Annie is currently co-owner of studio DoubleBear, whose most recent game Dead State recently had a big update (last june, when this was recorded).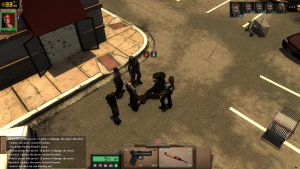 Follow Annie on Twitter: @murderblonde
More information about Dead State.
Here is the RSS Feed for the podcast: http://www.chaoticstupid.com/feed/podcast
You can also find the podcast in iTunes. Just go to the iTunes store and search for "Chaotic Stupid."
Note: It sometimes takes a few hours for iTunes to catch up once an episode has been published.
To be added as soon as I have a chance: A Youtube version and show notes.
Also, sorry I'm a day late on this one. This month has been crazy busy, as I'm starting to ramp up on game contracting work again.